Mid-West GIS was first asked to create a traffic sign inventory back in 2007 by Mason County, Illinois. The County was in dire need of updated traffic signs, and there was a grant from the Illinois Department of Transportation to assist in the cost of the replacement of those signs. In order to qualify for the grant Mason County had to have an up to date and accurate inventory of all signs on their right of ways. GIS was the perfect tool to create an inventory, so Mason County contracted with Mid-West GIS to use GIS & GPS technology to create their inventory.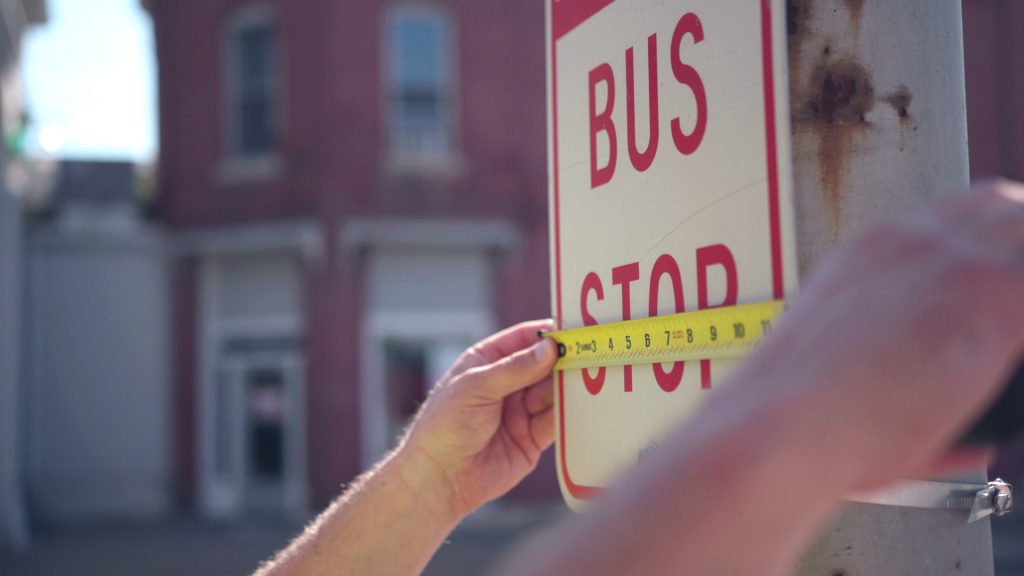 The inventory took several months to create. Each sign was collected with sub-meter GPS data collectors. The location didn't need to be any more accurate than sub-meter as the signs are easy to locate in the field. Aerial photography was also used to correct the placement of the points, as many are visible on the aerial photos. In addition, about a dozen different attributes were collected that pertained to the sign and the support structure.
Once the data was completed and put through Quality Control, it was delivered to the client. ArcMap was the editing tool to be used, so Mid-West GIS assisted with the installation of the software and data, as well as in depth training to teach Mason County staff how to update and maintain the data. The data was quickly used to identify signs that had poor or bad sheeting material or panel conditions, or signs that had Engineering Grade sheeting material. These were the first signs that needed to be replaced. By identifying these signs the county was able to get an accurate county on the type of signs to be replaced, as well as their location. This information was submitted as part of the grant, which was approved by the Illinois Department of Transportation. Once approved the county was on schedule to receive over $270,000 in assistance in replacing these outdate or damaged signs. The project was a huge success!
Over the next thirteen years Mid-West GIS has gone on to complete well over 500 additional Traffic Sign Inventories in states all across the country. So many clients see the need to have the inventory, the power behind having this data, and the need to outsource it to a contractor because of the labor intensive part of the data collection. We have had clients with as few as a few hundred signs, and some with more that 20,000+ signs. No project is too small or too big for Mid-West GIS to undertake. They are all equally important and equally necessary.
For more information please visit our Traffic Sign Inventory Page at\
https://www.mid-westgis.com/services/sign-inventory/
For a hassle free estimate please visit our Request a Quote page at
https://www.mid-westgis.com/quote/
To view our video on Traffic Sign Inventory Collection visit our Instructional Videos page at
https://www.mid-westgis.com/informative-videos/