Mid-West GIS is one of the fastest growing GIS companies in the Midwest. The company provides Geographic Information System (GIS) Consulting, GPS Field Collection, and Data Conversion services. These services include Real Time Kinematic (RTK) Sub Centimeter Accurate GPS Data Collection, Traffic Sign Inventory Data Creation, Utility Mapping & Data Migration Services, Planning and Zoning Data Creation, 911 Addressing for Street Centerlines and Address Points for Structures, Customer Location Mapping, Routing, GIS Website Development and other related GIS services.
History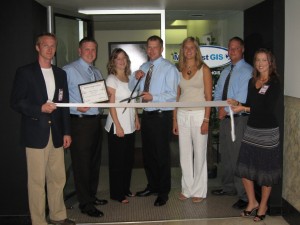 Mid-West GIS was founded in May of 2007 by Shane McDermott & Jennifer McDermott. The company has quickly evolved as one of the industry leaders in the area, particularly in the area of GPS Field Inventories. Headquartered in Maywood, Missouri, Mid-West GIS works with clients all over the United States.
Our Vision
The mission of Mid-West GIS is to provide top-quality GIS services at an affordable cost. The company will seek to provide these services in the timeliest manner and with an ongoing comprehensive quality control program to provide 100% customer satisfaction. The creation and delivery of accurate data is the backbone for the continued development of any GIS system, and Mid-West GIS puts quality data as the top priority on all of our projects.
GIS is a quickly evolving industry, so Mid-West GIS will ensure that our staff is fully trained in the most up-to-date software applications. Our staff will be on top of the technology advancements in the industry to ensure our clients are keeping up with these changes. The company's principal officers see each contract as an agreement not between a business and its customers, but between partners that wish to create a close and mutually beneficial long-term relationship. Our client referrals are extremely important to our continued growth and success, and we will go to every extent to make sure our customers are completely satisfied with our services.
Commitment
As a company and as individuals, we take great pride in contributing to the communities where we live and work. Technology is propelling our growth. We're focusing on technologies that will not only improve our production efficiency but increase your return on investment. Mid-West GIS is committed to providing the best results in terms of cost, quality and service to our clients.