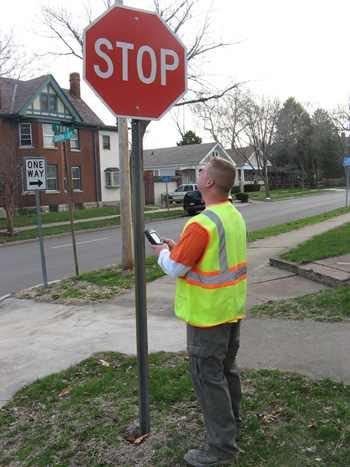 Mid-West GIS continues to refine and improve data collection techniques to ensure the most accurate data possible is delivered to our clients. The field collection process for a traffic sign inventory involves the use of highly accurate GPS equipment to collect the coordinates of the traffic sign. The use of aerial photos is used for quality control of the location as well, by viewing the placement of the point in the field as it's collected. Once the location is stored there are approximately 20 additional attributes that are collected to identify features of both the sign and the support structure.  Some of the attributes collected are: Sign Type, MUTCD Code, Size, Sheeting Material Type, Sign Condition,  Support Type, Support Condition,  Digital Photo,  and many others. Mid-West GIS also collects ALL signs in our projects, so that any sign on routes maintained by our clients are collected,  giving the a complete and comprehensive traffic sign inventory.
Mid-West GIS also physically stands in front of each sign and collects the data using GPS data collectors, we DO NOT collect from a moving vehicle,  as is done by other companies.  Collection from a moving vehicle provides inaccurate location and attribute data, as well as some attributes being completely missed or unable to collect. Mid-West GIS delivers highly accurate and reliable data in multiple formats that will be usable in any application our clients choose to use.
Mid-West GIS is an ESRI Business Partner  as well. This gives our employees as well as our clients access to the most up to date GIS technology available.